Welcome to Dr.Biju Online
Happy, Healthy, Homeopathy Giveaway!
Dr.S.G.Biju, Homoeopathic Physician, is the Managing Director of the Homoeopathic Multi Speciality Hospital, Changanacherry. His individualized approach to treatment maximizes success and minimizes side effects. Dr. Biju is an advocate for patients infected with "Hepatitis-B" and he got Red Cross appreciation award for curing Hepatitis- B cases in 1998.
OUR MISSION
Our Mission is to become a world-class health care provider by curing diseases hitherto consider incurable, through Homoeopathy the sublime healing art gifted to the world by Christian Friedrich Samuel Hahnemann and to scale the zenith of compassion and excellence in our service to sick humanity.
QUALITY POLICY
We are committed to delight our customers by providing excellent quality homoeopathic treatment with utmost care and concern. It is our endeavor to become the most reputed homeopathic hospital in South India, by continually improving our performance through research and development and the application of Quality Management System.
Working Time: 10.00 AM to 01 PM, 04.00 PM to 05.30 PM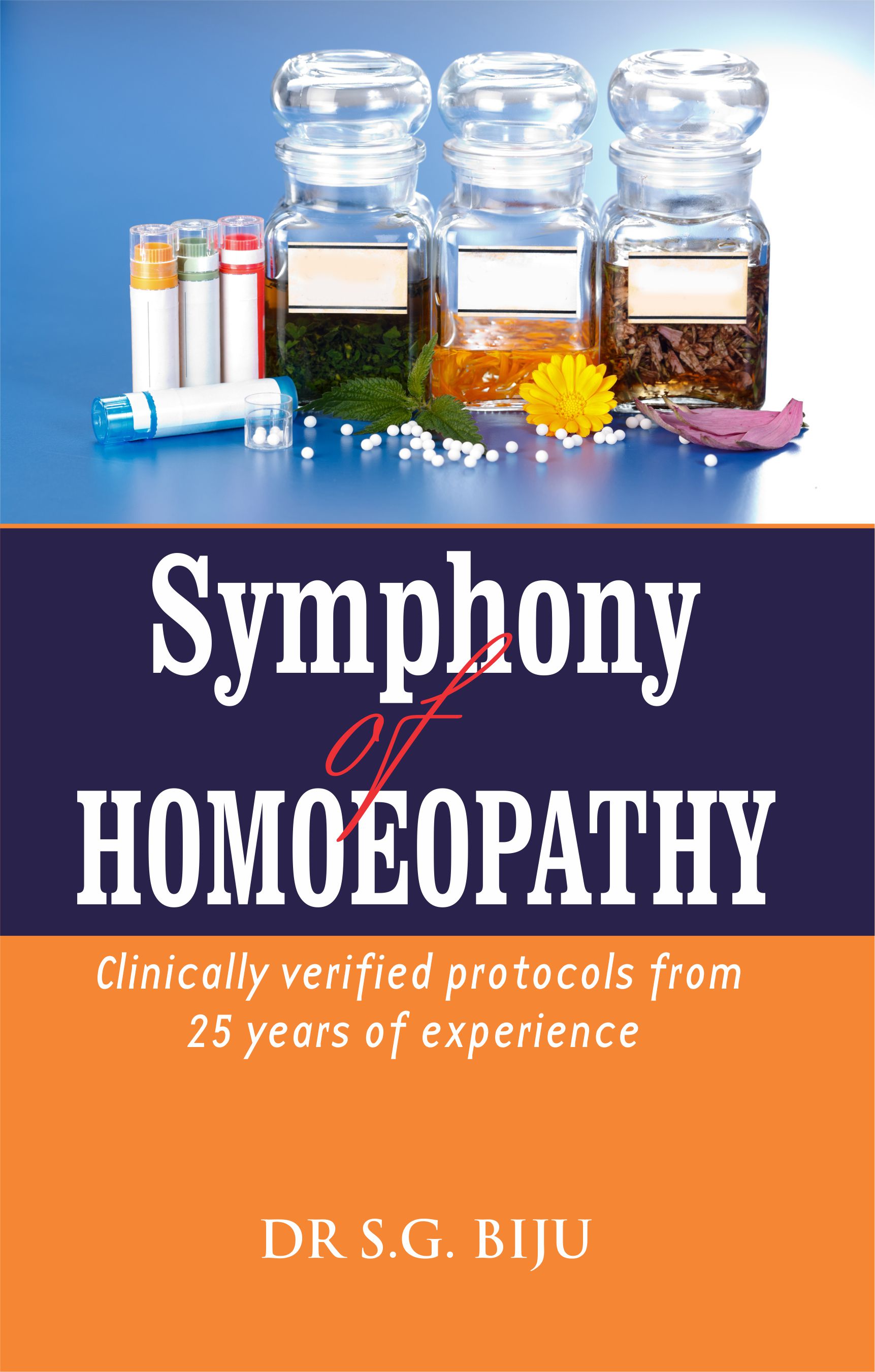 by S G Biju (Published in:2016-10-01)
'Symphony of Homoeopathy' elucidates the obstacles faced by Dr Biju during his homoeopathic childhood. It is both illuminating and rewarding to read about the ways in which he has handled and overcome the challenges in life.
The book also deals with the management of acute emergencies. It will make you more decisive as the number of medicines and drugs are restricted on the basis of its effectiveness. It gives a clinical approach towards the application of the miasms. Various temperaments and miasms have been depicted with the help of various sketches.
It is a stepping stone towards a uniform practical guideline which is a need of the hour to establish cure and a standard of treatment. If one Homoeopath could give relief to his patient with one particular medicine in a specific potency and dosage without compromising on philosophy then a guideline of such cure should be prepared by him.
It is a call to each homoeopath to prepare their own protocols and bring forth a standard of treatment for each practitioner across the globe.
Major Treatment Departments

Hepatitis – B
Allergic & Respiratory Disorders
Gastrointestinal Disorders
Infertility
Hepatitis – C
Gout
Cancer, Pain & Palliative Treatment
Gastrointestinal Disorders
Neuro Psychiatric Clinic – Every Last Friday or Saturday
Dermatology Clinic – Thursday
Gynecology Clinic – Every Wednesday
Pediatric Clinic – Friday
Hiv & Aids – Every Last Saturday At Atmatha Kendram Changanacherry
HIV AND HOMEOPPATHY PART-1
HIV AND HOMEOPATHY PART-4