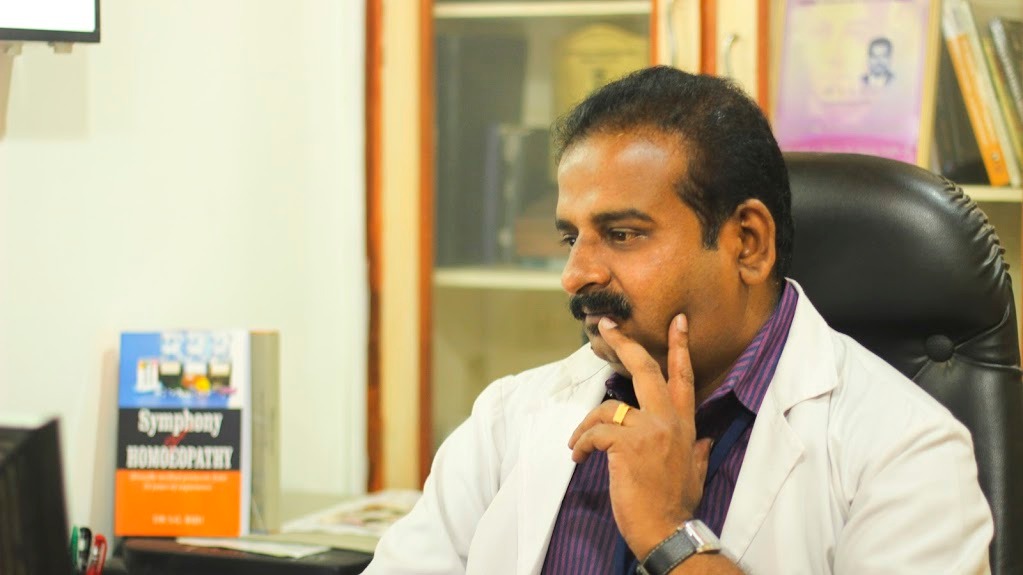 PROFILE OF MANAGING DIRECTOR (CHIEF MEDICAL OFFICER)
Dr.S.G.Biju, Homoeopathic Physician, is the Managing Director of the Homoeopathic Multi Speciality Hospital, Changanacherry. His individualized approach to treatment maximizes success and minimizes side effects. Dr. Biju is an advocate for patients infected with "Hepatitis-B" and he got Red Cross appreciation award for curing Hepatitis- B cases in 1998. Dr. Biju treated and cured number of incurable diseases viz, Hepatitis -B, Osteogenesis Imperfecta, Infertility, leukemia, ITP. He is conducting researches in the treatment for HEPATITIS-B, RHEUMATOID ARTHRITIS, INFERTILITY & ALLERGIC DISEASES for the past several years.
Besides this, he is the winner of Dr.Samuel Hahnemann Award 2003. He is also honored by the Best guest lecturer Award and Rajiv Gandhi Shiromany Award. At present, he handles a variety of posts.
MILE STONES
Estd – 2000
Started Hepatitis – B Research Wing – 2001
Started HIV/AIDS Research wing – 2002
Started Referral Wing – 2003
Honored by Lions Club for Curing Hepatitis – B – 2003
Honored By Dr.Samuel Hahnemann National Award – 2004
Started SAHYA (School for Artistic Homoeopathy for Youngsters and Adults) – 2005
Managing Director Dr.S.G.Biju qualified MD from Mumbai University – 2006
Honored by Dr.N.K.Jayaram Award of IHK in the year 2006
Total No of New patients at the end of the year 2001 – 2000
Total Number of patients on 30th December 2008 – 25756
Daily average of patient visit – 125.5
Treated and cured 30 cases of Osteo Genesis imperfecta tarda a so called incurable disease.
Started Infertility Specialty OP in the year 2005 under the able guidance of Dr.R.Balakrishna Pillai.
Adopted 65 HIV affected children since 2005
Providing clinical training for Junior Doctors since 2002
Presented scientific papers in Dubai International Homoeopathic Conference in the year 2005
Conducted training programmes for Malaysian Homoeopaths in the year 2004
Representing in the Advisory Board of Malaysian Homoeopaths Association
Representing Center for Advanced studies in Homoeopathy (CASH)
MAJOR TREATMENT DEPARTMENTS
HEPATITIS – B
ALLERGIC & RESPIRATORY DISORDERS
GASTROINTESTINAL DISORDERS
INFERTILITY
HEPATITIS – C
AUTO IMMUNE DISORDERS – SLE
OSTEOGENESIS IMPERFECTA TARDA
DIEBETES MELLITUS
RHEUMATOID ARTHRITIS
GOUT
CANCER, PAIN & PALLIATIVE TREATMENT
NEURO PSYCHIATRIC CLINIC – EVERY TUESDAY
DERMATOLOGY CLINIC – THURSDAY
GYNECOLOGY CLINIC – EVERY WEDNESDAY
PEDIATRIC CLINIC – FRIDAY
HIV & AIDS – EVERY LAST SATURDAY AT ATMATHA KENDRAM CHANGANACHERRY
QUALITY OBJECTIVES
To Achieve 100 Patients/ day by 31st March 2010.
To Achieve 125 patients/day by September 1st 2010
To Achieve 150 patients per day by 31st march 2011
Total No of Case records by 31st march 2010 – 26198
Total No of Case Records by Sept3ember 1st – 27200
Total No of Case records by March 2011 – 30000
To achieve a cure rate of 50% by 31st march 2010
To achieve a cure rate of 70% by March 31st 2011
To treat 250 HEPATITIS – B cases by 31st March 2010
To treat 500 HEPATITIS – B cases by 1st September 2010
To Treat 300 ALLERGIC & RESPIRATORY DISORDERS by 31st March 2010
To Treat 700ALLERGIC & RESPIRATORY DISORDERS by 1st September 2010
To treat 300 GASTROINTESTINAL DISORDERS by 31st March 2010
To Treat 600 GASTROINTESTINAL DISORDERS by 1st September 2010.
To treat 30 Infertility Cases by 31st March 2010
To Treat 60 Infertility by 31st march 2011.
To Treat 30 OSTEOGENESIS IMPERFECTA TARDA cases by 31st March 2011
To treat 300 DIEBETES MELLITUS by 31st March 2010
To Treat 600 DIEBETES MELLITUS by 1st September 2010.
To treat 20 RHEUMATOID ARTHRITIS by 31st March 2010
To Treat 40 RHEUMATOID ARTHRITIS by 1st September 2010